01/08/2017
It's been a mixed trading year for the first half of 2017 with the Australian market (ASX200), down -0.85% from January 3 to July 3.
The main drag has been from sectors such as Financials, Telecommunications and Energy.
However, some sectors have done very well for the first half of the year such as Health Care, Industrials and Utilities.
HEALTH CARE (XHJ)
Health Care posted the biggest gain for the first half of 2017 by rising +19.20%. Helped from stocks such as,
CSL Limited (ASX: CSL) +34.10
Cochlear Limited (ASX: COH) +24.45%
Fisher & Paykel Healthcare Crop Ltd (ASX: FPH) +24.45%
ResMed (ASX: RMD) +16.30%,
Health Care +19.20%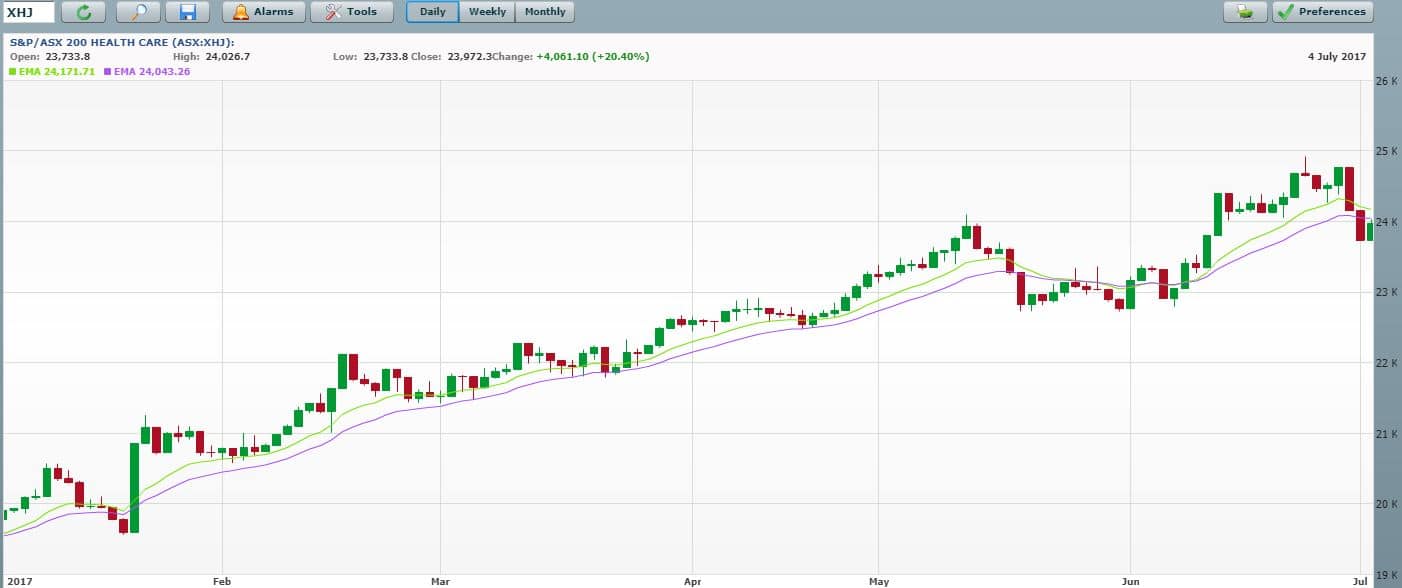 Industrials (XNJ)
Industrials has been the second best for performance up +7.61% with stocks like Qantas and Air New Zealand getting a lot of attention helped by lower oil prices.
Qantas (ASX: QAN) +68.93%
Air New Zealand (ASX: AIZ) +50.71%
Monadelphous Group Limited (ASX: MND) +25.04%
Sydney Airport Holdings (ASX: SYD) +15.37%
Industrials +7.61%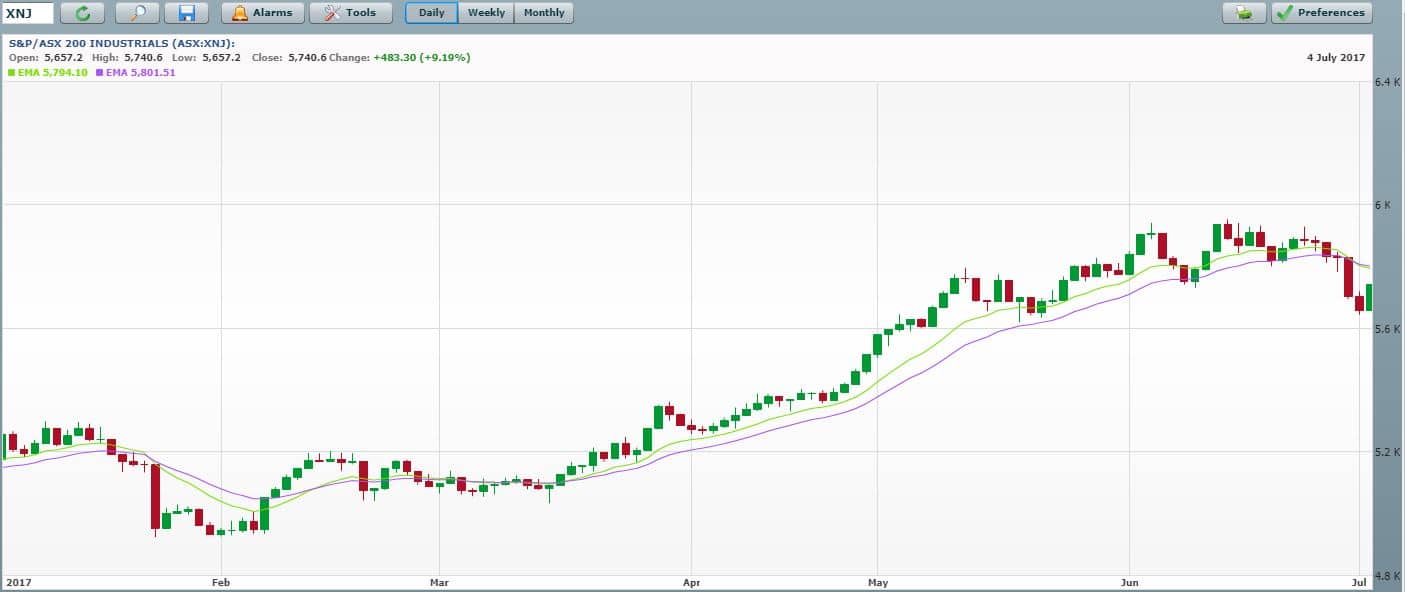 Utilities (XUJ)
Utilities also managed to get ahead, posting a gain of +6.40% with a steady rise in most stocks as investors look for "bread & butter stocks" that have generally been steady in the past.
AGL Energy (ASX: AGL) +10.97%
Spark Infrastructure Group (ASX: SKI) +8.37%
AusNet Services (ASX: AST) +5.94%
APA Group (ASX: APA) +4.00%
Utilities +6.40%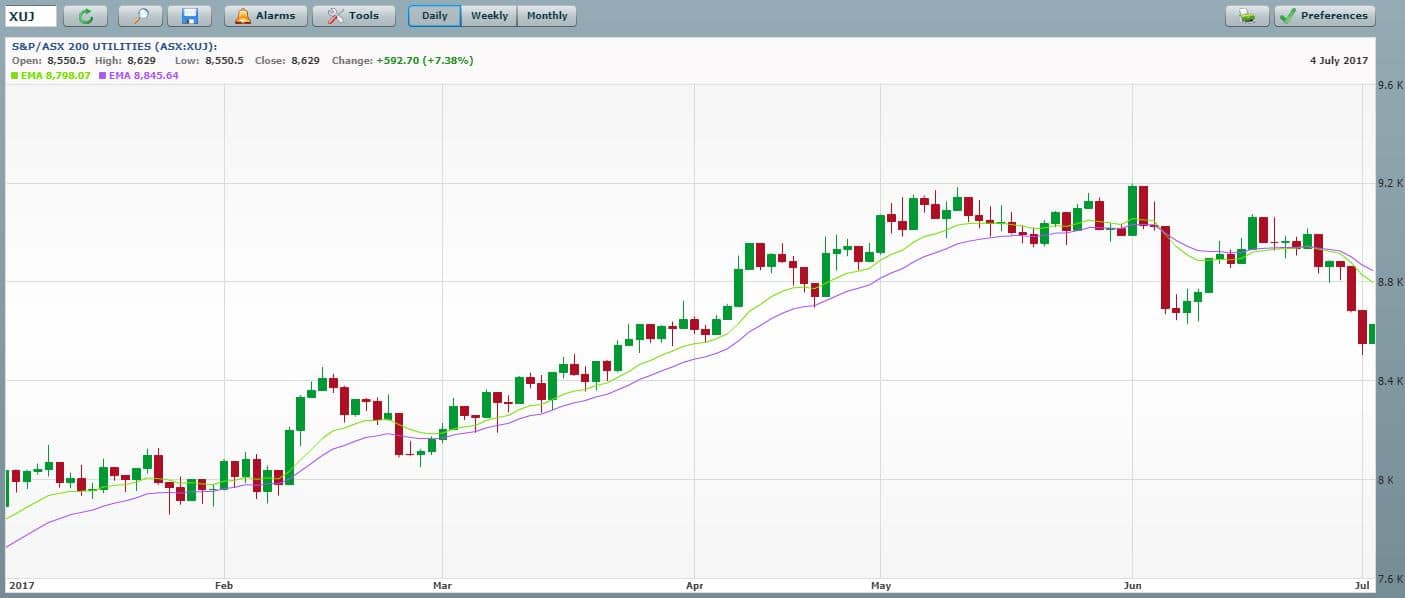 Gold (XGD)
Gold has also been positive this year up +5.04% with its price influenced heavily by the US dollar which has been strong. Its impressive for gold to be positive as there have been a few rate rises which generally puts pressure on the precious metal.
ST Barbara (ASX: SBM) +37.86%
Northern Star Resources (ASX: NST) +28.53%
Regis Resources (ASX: RRL) +24.24%
Evolution Mining (ASX: EVN) +8.17%
Gold +5.04%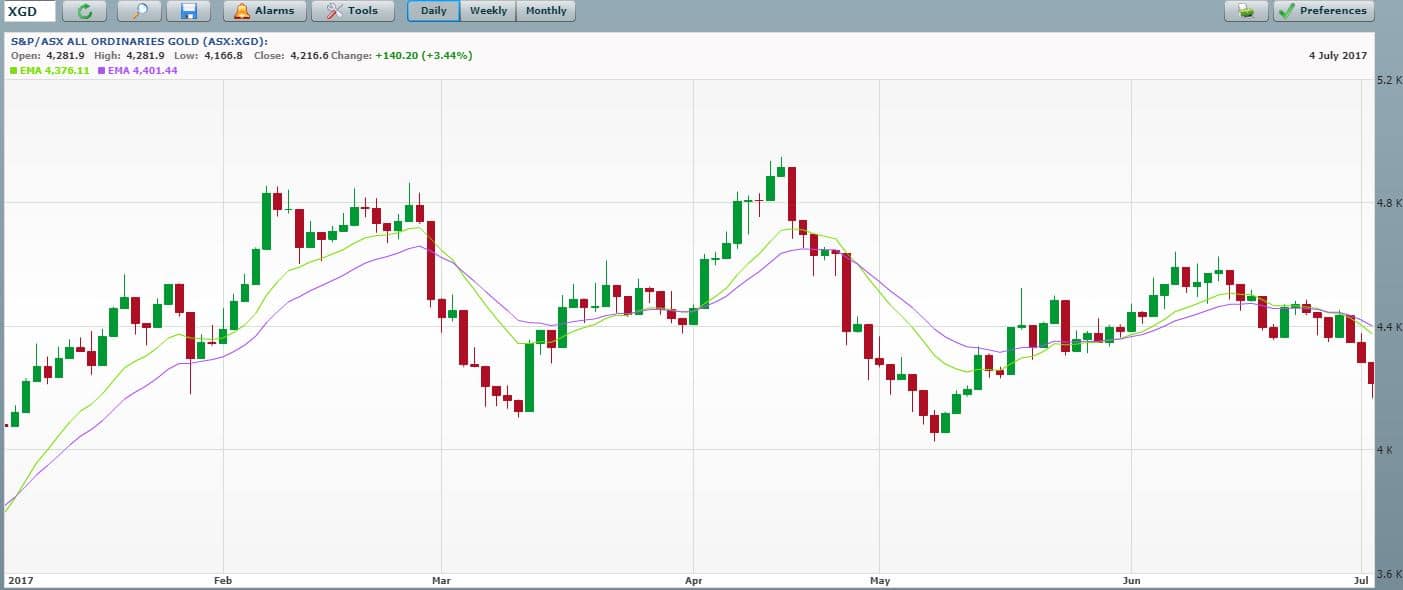 Information Technology (XIJ)
Information Technology has come in just behind Gold with a gain of +4.36% with stocks like
Xero (ASX: XRO) +42.43%
Gentrack Group Ltd (ASX: GTK) +36.44%
WiseTech Global Ltd (ASX: WTC) +15.65%
Computershare (ASX: CPU) +13.25%
Information Technology +4.36%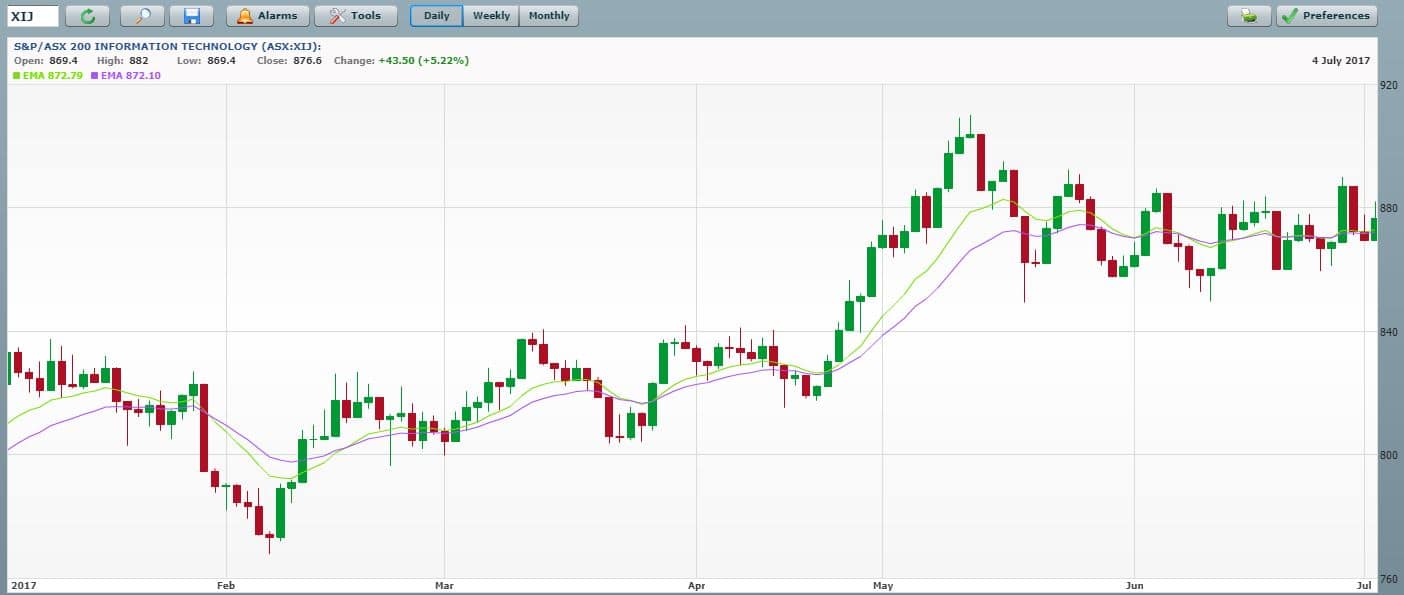 Consumer Staples (XSJ)
Consumer staples were just positive with the following company's helping keep the sector from going negative.
Bega Cheese Ltd (ASX: BGA) +56.84%
Costa Group Holding Ltd (ASX: CGC) +40.80%
Bellamy's Australia Ltd (ASX: BAL) +27.48%
Treasury Wine Estates Ltd (ASX: TWE) +22.24%
Consumer Staples +1.05%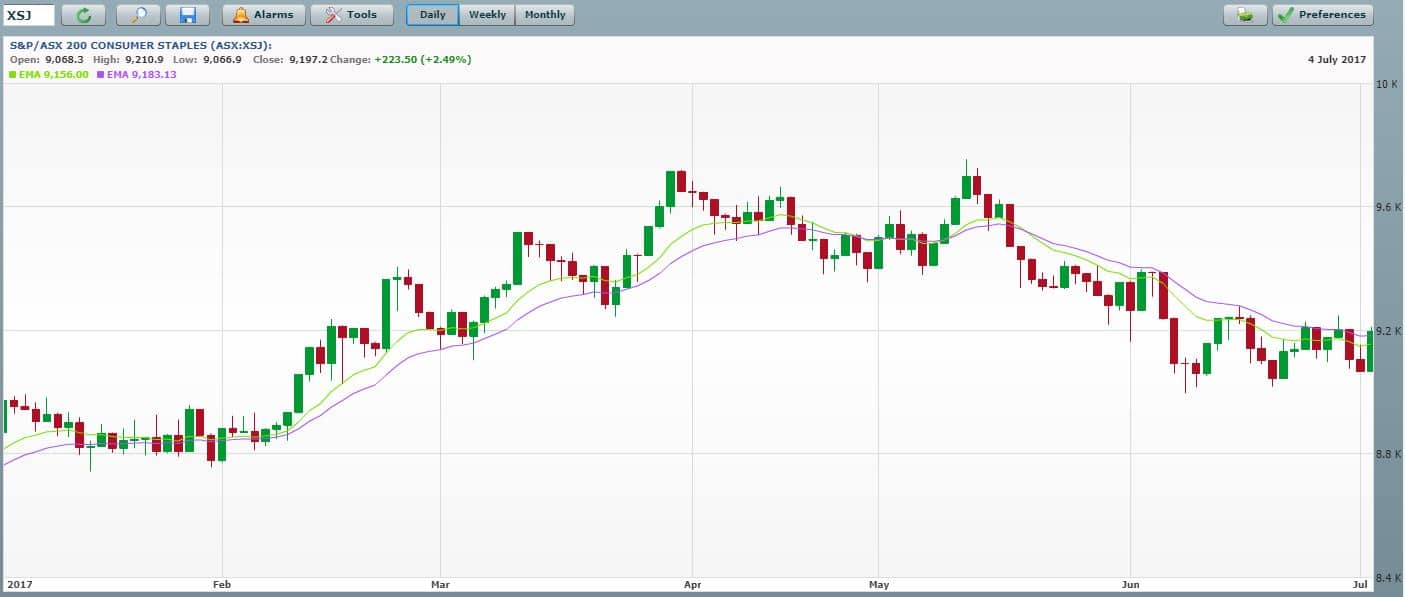 Consumer Discretionary (XDJ)
Consumer discretionary has also come in just positive for 2017 at +0.18%, but had some good performers. Flight centre took a similar path to the industrials stocks that have been boosted from lower oil prices.
Aristocrat Leisure Limited (ASX: ALL) +39.55%
Nine Entertainment Co (ASX: NEC) +30.19%
Flight Centre Travel Group Ltd (ASX: FLT) +22.31%
REA Group Ltd (ASX: REA) +16.06%
Consumer Discretionary +0.18%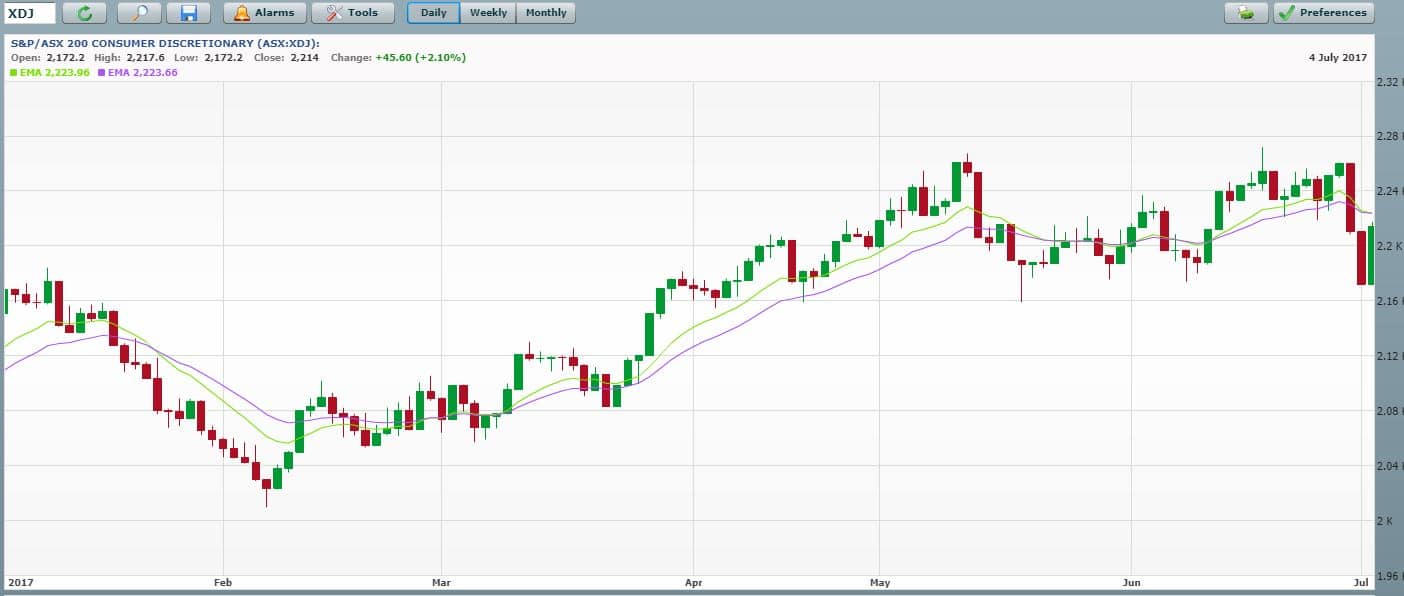 Materials (XMJ)
Materials just came in negative, down -1.72% for the first half taking a similar path to Metals & Mining.
Western Areas Ltd (ASX: WSA) -32.05%
Independence Group NL (ASX: IGO) -28.31%
Fletcher Building Limited (ASX: FBU) -26.78%
Pact Group Holdings (ASX: PGH) -13.62%
Materials -1.72%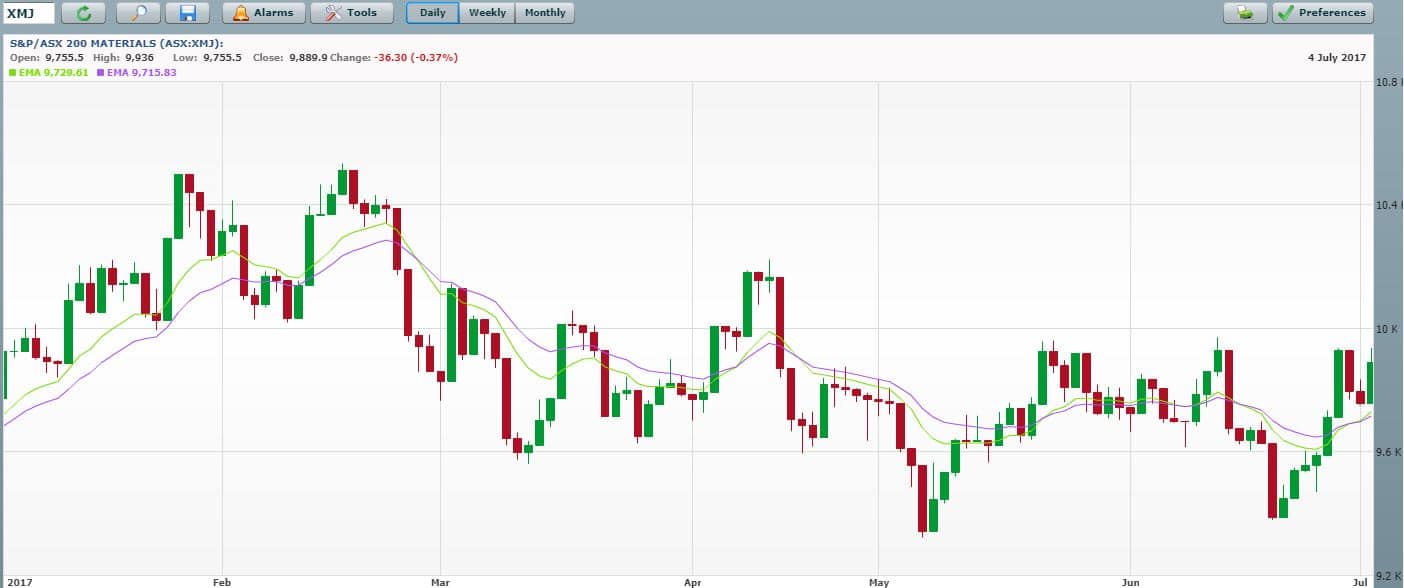 Metals & Mining (XMM)
Metals & Mining had a broad sell off down -2.98% as commodity prices where average for the first half of 2017.
Fortescue Metals Group Limited (ASX: FMG) -11.74%
OZ Minerals (ASX: OZL) -9.54%
BHP (ASX: BHP) –8.76%
Incitec Pivot Limited (ASX: IPL) -8.72%
Metals & Mining -2.98%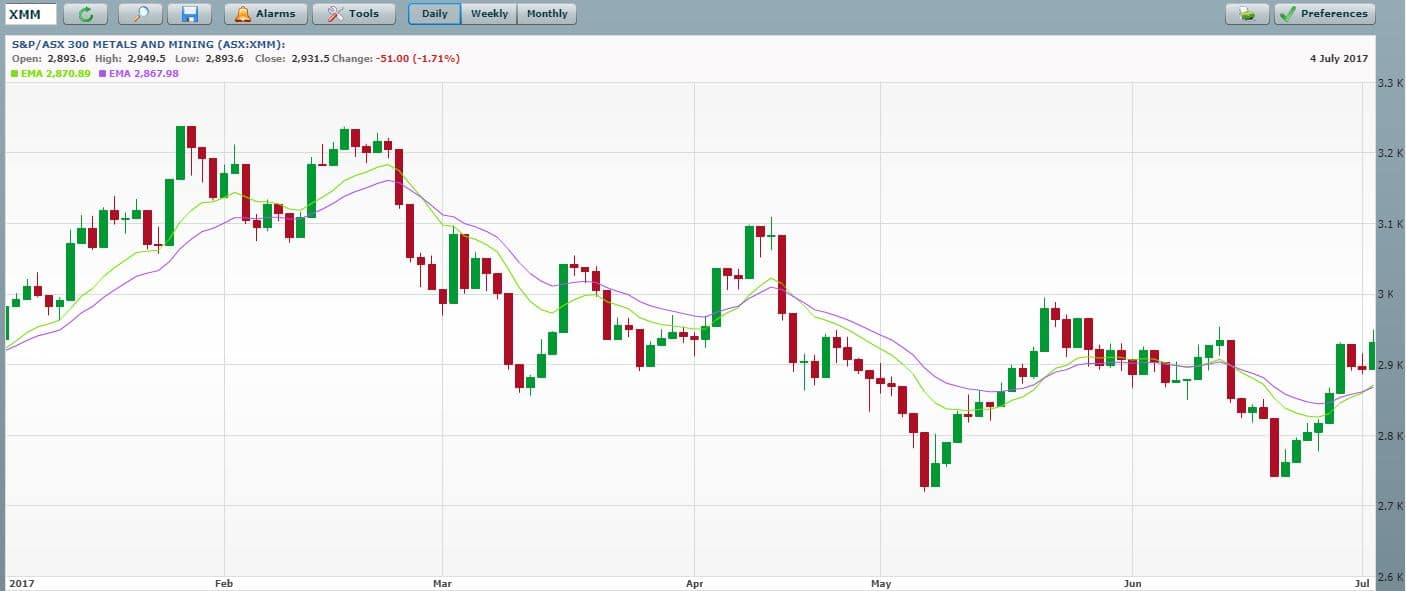 Financials (XFJ)
Financials dropped -2.91% with issues around a possible property bubble and also the $6.2 billion bank tax that came into effect on July 1.
Flexigroup (ASX: FXL) -22.75%
Westfield Corporation (ASX: WFD) -14.94%
Genworth Mortgage Insurance Australia (ASX: GMA) -13.47%
Westpac Banking Corp (ASX: WBC) -7.77%
Financials -2.91%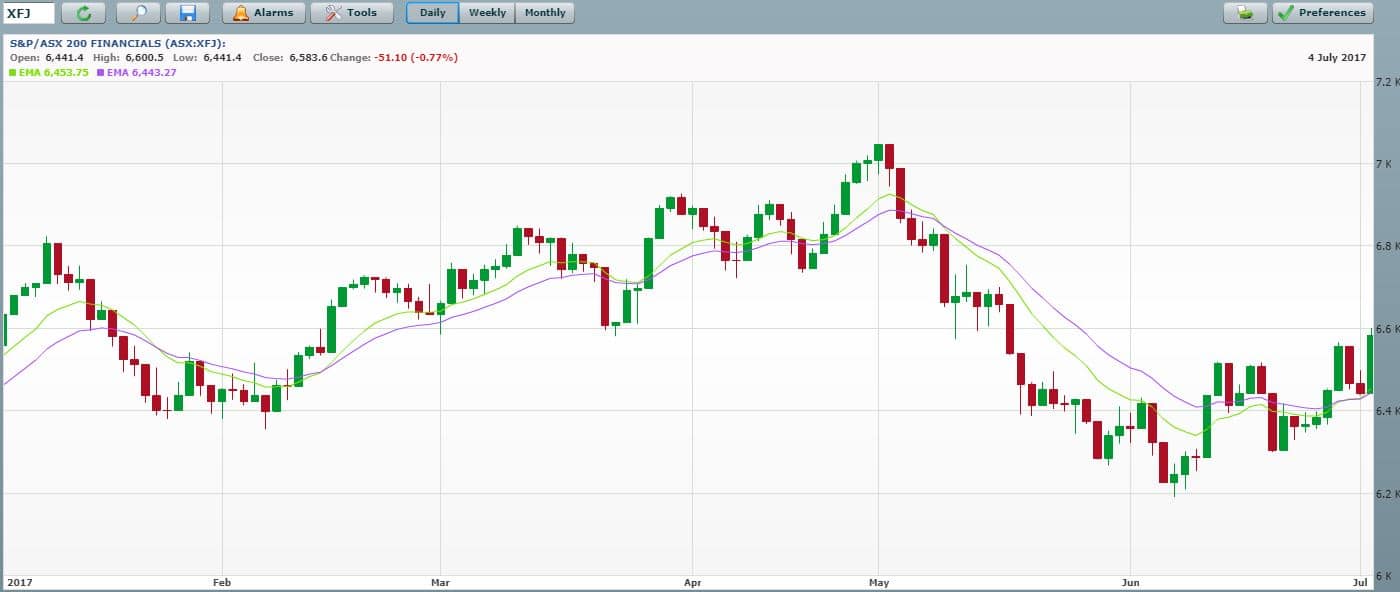 Energy (XEJ)
Energy has been down -4.42% with OPEC failing to inspire a convincing oil rally with output cuts being short lived. Natural Gas prices have also been down for the first half of the year.
Beach Energy Limited (ASX: BPT) -31.40%
Santos Limited (ASX: STO) -24.88%
Woodside Petroleum Limited (ASX: WPL) -5.17%
Oil Search Limited (ASX: OSH) -5.16%
Energy -4.42%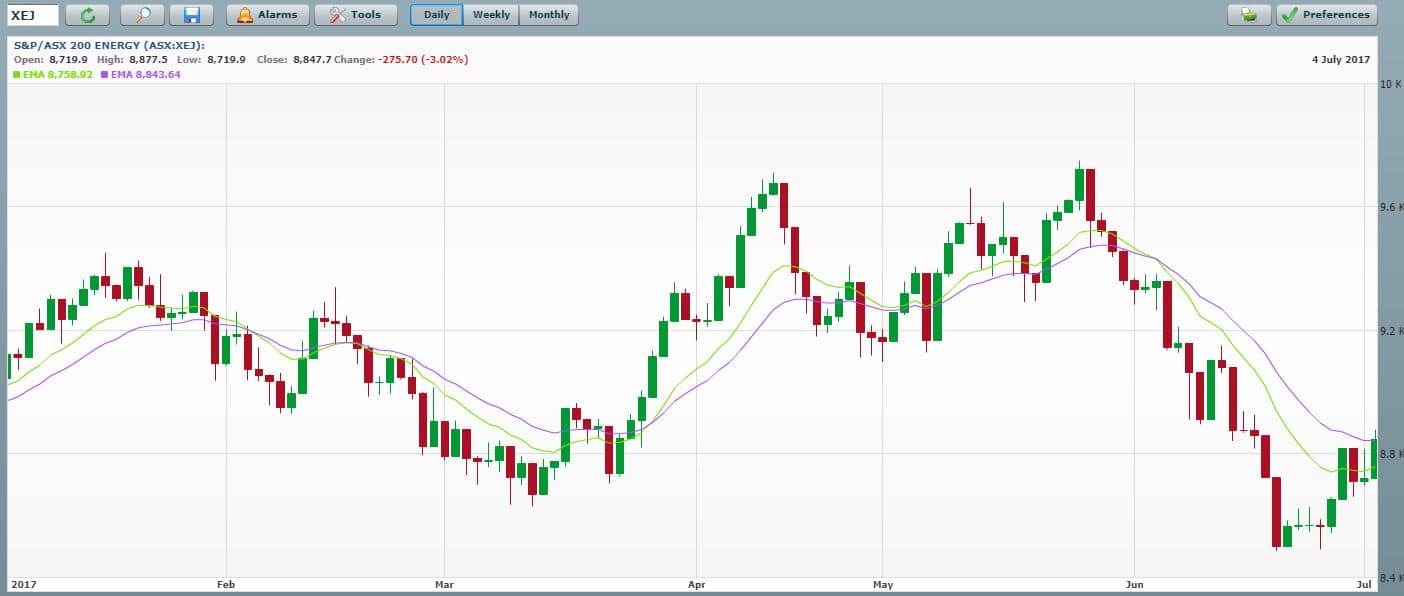 Telecommunications (XTJ)
Telecommunications comes in with the biggest loss out of the sectors, down -16.29%. The main cause being around competition between the sector and network issues last year.
Amaysim (ASX: AYS) -24.62%
Vocus Group Ltd (ASX: VOC) -19.30%
TPG Telecom Ltd (ASX: TPM) -18.39%
Telstra (ASX: TLS) -16.47%
Telecommunications -16.29%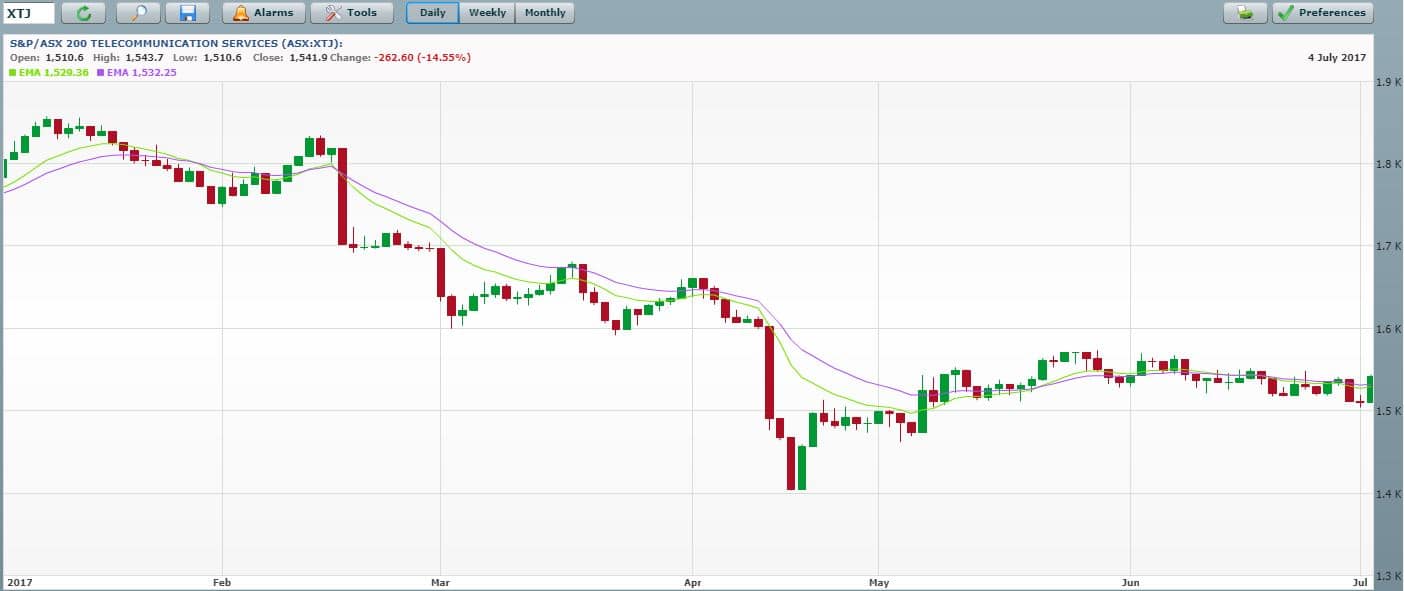 If you are interested in our trade mentoring program or the ShareSmart Stock market scanner please email us on support@equitysmart.com.au or call on 07 5609 7665.