01/11/2017
The ASX200 (XJO) has broken the key resistance level of 5,835, after trading sideways for the past few months.
It is currently in a bullish state with the EMAS, and the next key level to test is 5,956, however the real area that the market has been anticipating is 6,000, which was last broken just before the GFC in 07/08.
The market tried breaking this level in 2015 but soon dropped after multiple failed attempts.
This means that the market essentially has failed to recover past these levels over the past 10 years, so any strong break past this key area would be a very positive indication for the Australian market.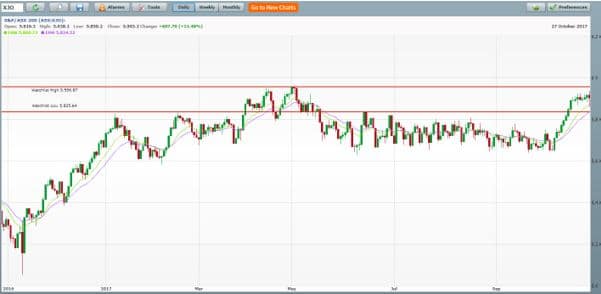 (CHART:XJO)
In the past few weeks confidence has returned as the North Korea saga has dulled down as well as strong confidence in the US market helping our market.
Investors now look at the chance of a Santa Clause rally at the tail end of the year.
A Santa Clause rally is a rally in stocks around the December period (Christmas).
No one knows the real cause of the rally, though many believe it is due to the silly season (good psychology) with people looking forward to holidays and Christmas bonuses being invested generally causing bullish sentiment.
Over the past four years the December period for the ASX200 index gained an average of +2.38%, with last year gaining the most out of that period with a +4.13% increase.
This does not guarantee that each year price will be positive for December, but is something to be looked at in conjunction with technical analysis each year.
Australian figures to be released shortly
2nd November -Trade balance
(Difference in value between imported and exported goods and services during the reported month; A positive number generally can indicate the health of the economy.)
3rd November, Retail Sales
Change in the total value of sales at the retail level;
(Consumer spending which generally can indicate the health of the economy.)
7th November-Cash Rate
Interest rate charged on overnight loans between financial intermediaries.
An Interest rise can generally be a positive sign of the economy. An interest rate cut can generally be a negative sign of the economy.
Call now on 1300 992 391 if you are interested in the ShareSmart scanner and advanced education and want to stay ahead of the game.