01/10/2018
What is a Candlestick chart?
A candlestick is a chart that displays the high, low, opening and closing prices for a security and can be represented on any time frame e.g. daily, weekly etc.
The wide part of the candlestick is called the "candlestick body" and tells investors whether the closing price was higher or lower than the opening price (red if the stock closed lower and green if the stock closed higher).
The candlestick's wick shows the day's high and low and how they compare to the open and close.
A candlestick's shape can vary based on the relationship between the day's high, low, opening and closing prices.
Candlesticks were developed around the 18th century by a Japanese rice trader and were introduced to the western world by Steve Nison when he released his book called Japanese Candlestick Charting Techniques.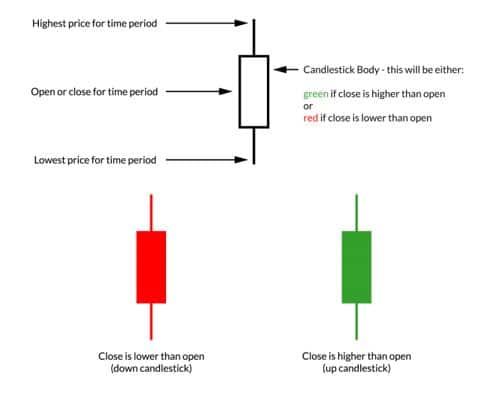 Over the years there have been many books released with charting strategies based around candlestick patterns, however these patterns may lead to over analysis of stocks and charts making things harder rather than clearer.
For this reason, its important to keep things simple and look at candlesticks in a logical way which provides us important information.
For Example, long wicks can show rejections of either lower or higher prices which may indicate exhaustion on trends where either buyers or sellers are losing control.
Diagram 1 below shows a long wick which rejects the higher price and eventually starts a bearish trend which moves lower.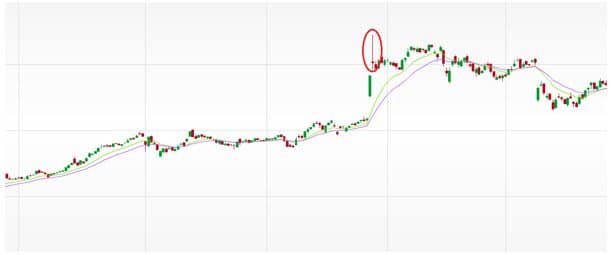 Diagram 1
Large body candlesticks may also indicate whether the buyers or sellers are in control at key breakout points.
Diagram 2 below shows a bullish candlestick which has opened at the bottom and closed nearly at the peak of the day.
This candlestick clearly shows that the buyers are in control at a key resistance level by not only breaking through resistance but closing above it with a long body.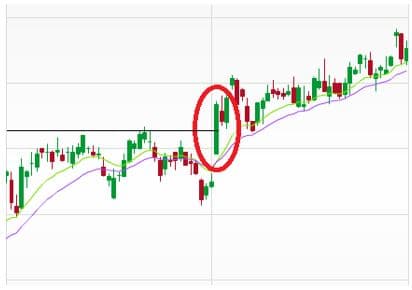 Diagram 2.
Conclusion
Candlestick charts can show us a lot in terms of price patterns, however its important to keep a simple approach in order to avoid any over analysis or confusion.
By keeping a logical approach to candlesticks, we can generally confirm continuations in trends or reversals.
It is important to use candlesticks not by themselves but in conjunction with other indicators like moving averages and support and resistance levels to advances the probabilities of participating in a correct trade.