01/02/2018
The market has started to pull back in the last 2 weeks as you have probably already noticed. The ASX200 has been in a bullish trend from mid-October and has had a great run with lots of good trades in that time.
Market's don't keep going up without the odd correction from time to time, and analysts are now saying they are expecting a general correction in the near future.
This can be a good thing as there is potential opportunities for traders if the market does have a correction.
During this time investors can take advantage of these periods by shifting their focus to shorting, and or take the time to clean up their watch list in anticipation of a new bull trend.
An excellent example was mid 2017 when the market was trading up and down but unable to break out of a sideways trend.
Opportunities suddenly appeared once the market broke out, and confidence in the market retuned as can be seen on the ASX200 chart below.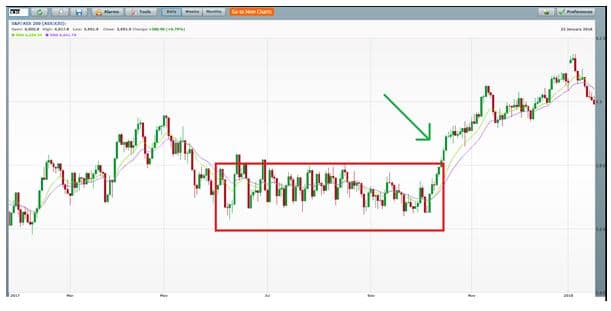 A lot of people may overlook the Bearish scan feature in ShareSmart if they are not shorting.
This can be a huge mistake as they don't realise that the bearish scan can actually at times bring up stocks that are just having a correction.
If this is the case, a high & low alarm can be set on the stock to monitor it.
There can be great potential once the stock has finished its correction and is returning to a bullish state with EMAS.
With this in mind, even if the market is having a correction it can be beneficial to always build a watch list no matter what the market is doing, and once the market corrects we have opportunities brought to our attention from the watch list in ShareSmart.
Call now on 1300 992 391 if you are interested in the ShareSmart scanner and advanced education and want to stay ahead of the game.