10/05/2016
At this time of year, financial publications are awash with results of "Expert's Stock Pick Results" for 2015 and their glowing predictions for 2016.
Whilst making interesting reading and giving hope to those without access to any sophisticated trading tools, to an ShareSmart client, there is little news there that is really "news".
Take for example some of the following "Expert Tips for 2016" recently listed as stocks to watch and see what ShareSmart clients saw on their scans during the year: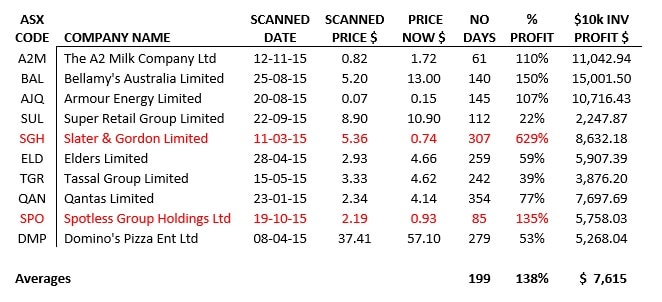 ShareSmart clients had the opportunity to gain an average of 138% return on these stocks over the past 12 months (potential profit $76,148) and are now using the proprietary ShareSmart Scan Feature to find their own "best picks", not annually but DAILY.
If you want to keep ahead of the experts, get ShareSmart.
Just don't tell them – we don't want everyone to know.
Call now on 1300 992 391 to stay ahead of the game.